Administrative Interface Overview
The SEO-Cart Administrative Interface is a web based application that you use to configure and manage your online store. This section will give you a better idea of how to navigate through the interface and efficiently configure and manage your online store.
Home - The home screen is the first page you see when you log in to SEO-Cart. Here you will find a summary of your online store activity.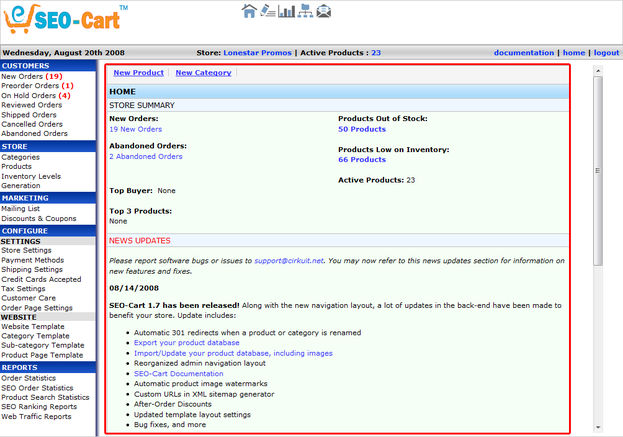 Regeneration Button - When making changes to your categories or products, you will need to click the big orange "Regenerate Store Now" button in the top right corner so that the changes are reflected on your front-end website. When regenerating your store, SEO-Cart will update the static pages of your website for only the products or categories you made changes to.

Top Navigation - Use the top navigation to quickly access the most used sections of SEO-Cart

Left Navigation - This area of SEO-Cart is what you will use to access the many features of SEO-Cart.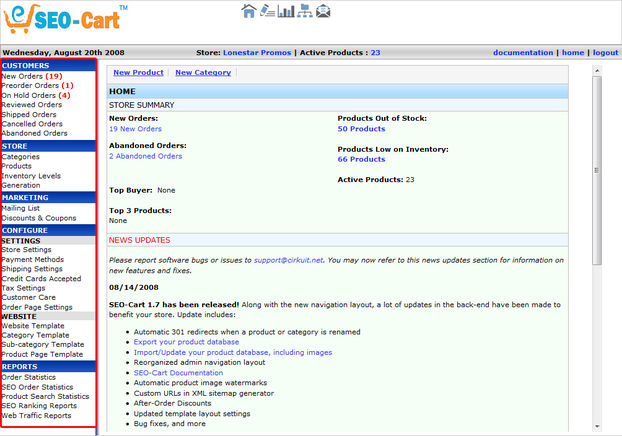 Below you will find a description of each section in the left navigation:
Customers - View, search, and process orders made by your customers. View your customers' information.

Store - Create and manage your categories, products, and inventory for your online store.

Marketing - Configure and manage your store promotions such as your mailing list, discounts, and coupons.

Configure - Configure all aspects of your online store functionality and appearance.

Reports - View detailed reports and statistics for your website and online store.
Related Support Topics