Wordpress Compatible Shopping Cart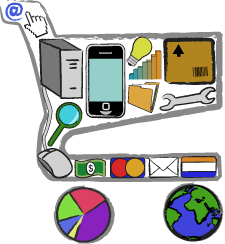 In addition, your company blog has the ability to drive targeted traffic to your website. You can link the two together, or even better make your blog a major feature of your company website. Blogs also encourage more inbound links and offer fresh optimized content, the two key factors in climbing up the Search Engine Result Pages (SERPs).
Blogging is the best tool any business can use to build a community around their products and/or services. As we are overwhelmed with various advertising and marketing information in our daily lives we seek trustworthy ways of filtering it. Create a company blog, allow it to grow, and participate in the postings and comments. Use your company blog as a tool to encourage participation and grow your business.
The more dynamic your company is in its marketing interaction, the more likely you are to create loyal customers. There is no better customer relationship management tool than a company blog.
Blog Features
Cirkuit Commerce can be seamlessly integrated with the most popular blog platform available today from WordPress. The WordPress blog platform includes these main features:
Easy Management:
Simple-to-use interface
Post anything from articles to photos
Comments and trackbacks posted
List articles and photos within a category
List by most recent articles and organize in archives
Option to delete one or more articles, comments or trackbacks
Convenient Tools:
Rich-text editor. How it appears on your screen is how it will publish on the web
User-customizable default posting settings
Receive emails each time a comment is posted
Comment posters can be notified when someone replies to their comments
Additional Benefits:
We add these additional features to your Cirkuit Commerce account when you use our blog service
Unlimited blog users
No commercial ads – Your blog will be completely Ad-Free
Utilize your existing company domain, such as www.mycompany.com/blog
Blog Service Pricing
Recurring cost - $10.00/month – Includes additional database, custom installation, and separate blog login URL.
One time setup fee - $99.00 – Your blog will be fully integrated into your custom website template. Any design changes beyond website template look, or any additional graphics added to the blog setup may incur additional fees.